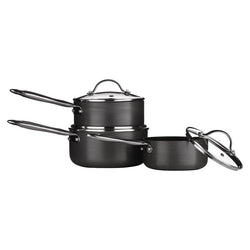 JS Home
TENZO H SERIES 3 PIECE COOKWARE SET
The Tenzo H Series three piece cookware set made from hard anodised ceramic coated aluminium with glass lids and stainless steel handles is an efficient and durable cookware set, containing a 16/18/20cm saucepans.
The high quality Tenzo H Series three piece cookware set, containing a 16/18/20cm saucepans, is made from hard anodised aluminium which increases corrosion resistance and hardens the surface making it strong, long lasting and an efficient heat conductor. The ceramic coating gives it a stylish look while making it non-stick, allowing you to use less oil and making the pans easier to clean. Ideal for cooking meats, vegetables, pasta, soups and sauces, the Tenzo saucepan set is versatile for all your cooking needs. Glass lids on the saucepans allow you to look at your meal simmering away without removing the lid. Suitable for all hobs except induction. Presented in an attractive gift box. Tenzo is a high-quality range of precision cookware. It is the name given to the chef in a Buddhist monastery, who is responsible for preparing meals for the monks. The Tenzo has one of the most important roles and handles all food with great respect as it is their responsibility to care for the community. Tenzo encompasses these values by providing high-quality products to ensure efficient, effective preparation, cooking and serving of meals.
Materials
: 
Aluminium, Glass
16/18/20cm saucepans

Efficient heat conductor

Ceramic non-stick coating

Glass lids with vents

Durable for everyday use.
Care and Use: not dishwasher safe