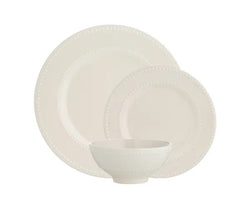 JS Home
DOTTIE DINNER SET 12 PIECE
Designed to suit any style home and enhance any dining table with it's easy living, long lasting subtle white glaze finish.
The Price & Kensington Dottie 12-piece dinner set is crafted using fine, durable porcelain and features a delicate spot embossment.

The dinner set includes 4 x 26.5cm Dinner Plates, 4 x 20.5cm Side plates and 4 x 14.5cm Bowls.

Safe to use in the dishwasher and microwave, making it convenient for everyday use.
The Dottie dinner set is packaged in an attractive gift box.
Set Contents
4 x 26.5cm Dinner Plates
4 x 20.5cm Side Plates
4 x 14.5cm Bowls