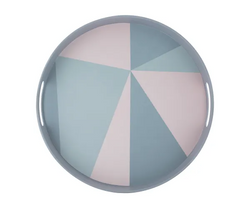 JS Home
Cafe Concept Bamboo Fibre Tray
The Typhoon Café Concept Tray is the perfect accessory for serving anything from your morning coffee to delicious afternoon tea.

With a 38cm diameter, the tray features raised sides and large handles allowing drinks and snacks to be safely carried.
The tray features an on trend geometric pattern in soft pastel pink and greys and coordinates perfectly with other items in the Café Concept range.

The Café Concept Tray is made from fully compostable bamboo fibre promoting sustainability by using fast growing core materials.

The Typhoon Cafe Concept range is designed to bring the coffee shop feel into your own home. Available in soft pastel shades of pink and grey the range offers a selection of mugs, serveware plates and bowls in various sizes as well as tea and coffee accessories for the perfect afternoon tea or morning coffee.